+++ 1. June 16th. 2019: History was made on VHF - The first ever Transatlantic QSO's on 144 MHz
2. FT8 chaos during Sporadic E +++
1.
On June 16. 2019 a new chapter was written in the book of VHF DX. D41CV [OP: EA8FF] made the first ever 144MHz QSO across the Atlantic Ocean on the evening of June 16.. This is what generations of VHF operators on both sides of the pond were waiting for in decades. The QSO's took place between D41CV and FG4ST and FG8OJ. On June 17. they added FM5AN.
Congrats to the milestone to D41CV from the whole MMMonVHF team.

2.
The first 144 MHz Sporadic E showed what was already expected: chaos on 144.174. QSO's were not completed due to local QRM. We strongly advise you to use the same sequence procedure as used for meteorscatter (reminder DL and middle EU is 2.period). We, as experienced VHF-DX-ers, should not judge but teach the unexperienced ....
Latest News Comments
CALL
UPDATED
NEWS

D44KZ

S79??

S79??

A21EME

VP6EME
Latest Forum Updates
CALL
UPDATED
SECTION

WSJT

Beacon

General

General

General
Random statistics
Todays MUF propagation
Updated:
Data by DXrobot / PE1NWL
and LiveMUF / G7RAU
Todays MS propagation
Updated:
Data averaged from 8 RMOB
sources across Europe
Todays SOLAR propagation
Updated:
Data by DXCluster VHFDX.EU
ES Season progress
Background information about this graph may be found in the forum and in the ES evaluation section.
MUF Map -Europe-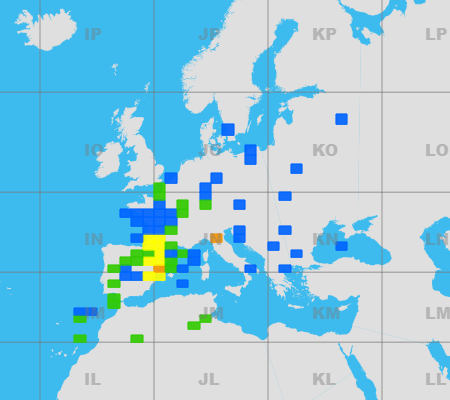 An experimental MUF Map of Europe is now provided by using DXCluster / LiveMUF of G7RAU data.
144MMHz ODX data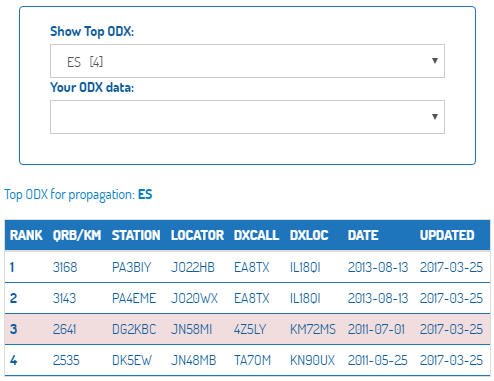 Check out the newly added 144MHz ODX data section in our project section.
Feel free to add your personal ODX data.
It's all just for the fun - no awards are assigned ;-)
VHF-Database - Smart filtering
Check out the new smart filtering option of the VHF-Database. Only VHF-Database data updated within last 5 years is used! We kindly ask to keep YOUR data up-to-date!
Magnetogram from JO20WX by Frank, PA4EME
Subscribe to MMMonVHF_bot via Telegram Messenger
We're happy to announce the launch of our news bot on the encrypted messaging platform Telegram.

If you are already on Telegram, you can check out the bot by following this link (or search for "MMMonVHF_bot" within the platform).

The bot instantly delivers you all updates around MMMonVHF, after just sending once the /start command. Several additional commands are available. Just type /help to get an overview.

The bot is still in development, so changes and additional commands may arrive.

Any feedback is welcome!